¤ Home » Ecommerce System » Related FAQs » How eCommerce works?
How eCommerce works?
This is a brief idea on how an eCommerce website works, depicting the entire process of accepting order and payment online. A website that accepts credit cards, debit cards and electronic checks as online payment mechanisms, operate as depicted below.
Typically, what you need to set up eCommerce for your website, is ...
a Shopping Cart Program,
a Payment Gateway Account,
a Secure Socket Layer Certificate, and
an Internet Merchant Account.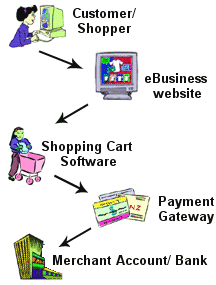 A Shopping Cart Program is the software a website uses to keep track of what your shopper wants to buy, allowing them to add purchased items temporarily to a shopping cart, drop items mid-way, change quantities, etc. and then on checkout, send the sales totals to a Payment Gateway software.
A Payment Gateway Account is the credit card processor that provides you with a secure bridge between your e-commerce website and your Merchant Account.
A Secure Socket Layer (SSL) Certificate allows you to process credit card information and other sensitive data on your website securely by providing data encryption. When you see a lock symbol at the bottom of your browser window, that means you are visiting the current website via SSL.
An Internet Merchant Account is a type of bank account that allows a business to accept credit cards as a form of payment for online transactions. These accounts manage the flow of money from your customer's individual credit card accounts into your business account.